Posted by Best Buds Cannabis Club on Nov 9th 2022
Hey Bud, Happy Humpday! (or whatever day it is when your reading this!)
In this blog we want to cover a hot topic in our industry: Delta 9 THC. We introduced our Delta 9 Edibles back in April and they quickly took over as one of our most popular products but we never really dove into the cannabinoid outside of comparing Delta 8 THC to Delta 9 THC. So in anticipation of our Delta 9 THC Gummies we wanted to write up some details for you all!
There are a few points we want to cover: What is Delta 9 THC? Is Delta 9 THC Legal? What are the effects of Delta 9 THC? So, without hesitation, lets get into it!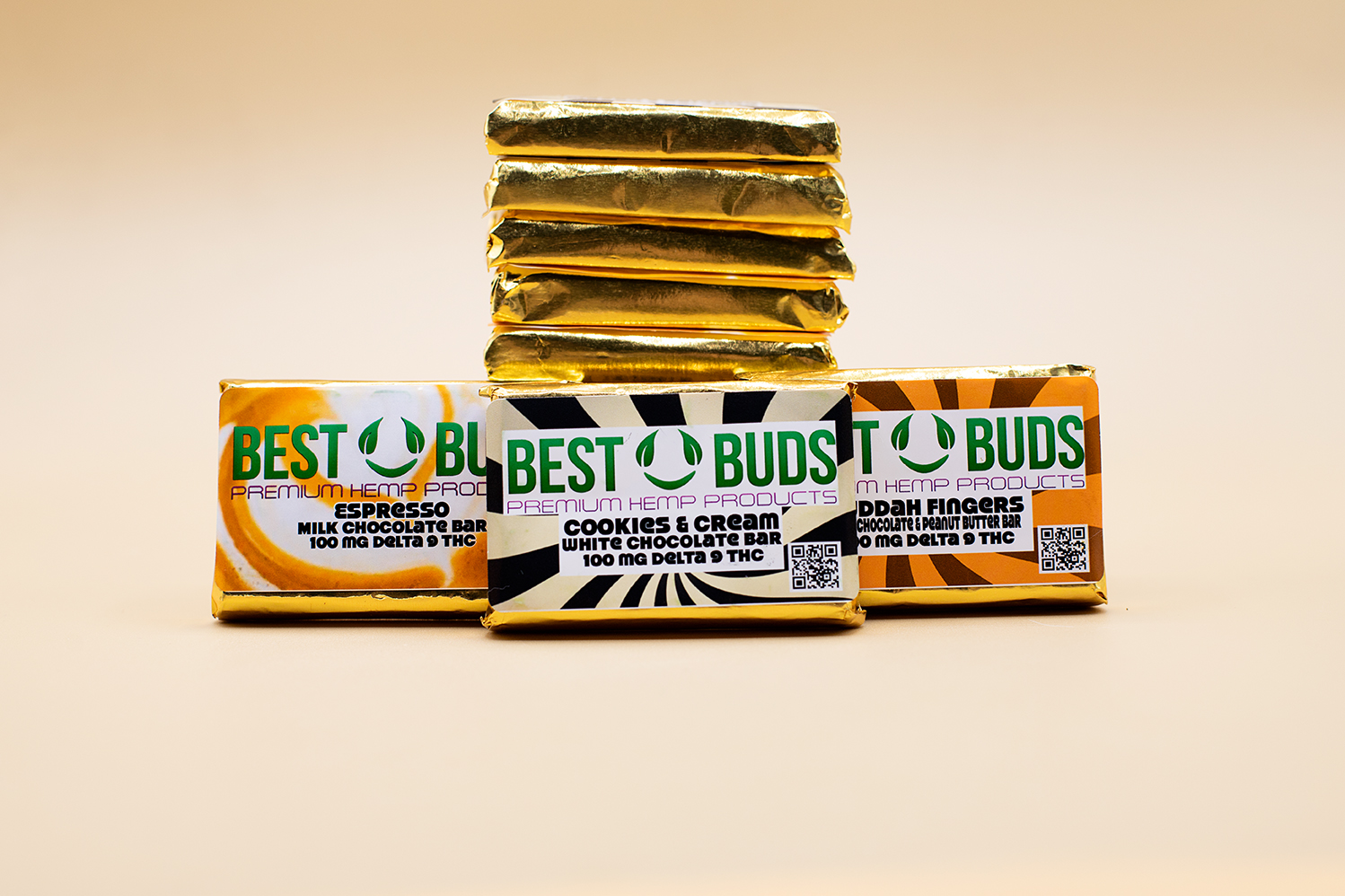 Best Buds 100 MG Delta 9 THC Chocolates

What is Delta 9 THC?
There are 2 well known and most common cannabinoids found in cannabis: CBD and THC. The scientific name for THC is Delta 9 THC. Delta 9 THC is the cannabinoid responsible for the high associated with cannabis.
Best Buds operates under the 2018 Farm Bill which provided new legislation that entails that cannabis and all natural cannabinoids are legal provided that the end products contain less than .3% Delta 9 THC on a dry weight basis. So, is THC Legal?
Is Delta 9 THC Legal?
In short, yes. But the answer is a bit more complicated. Delta 9 THC is the cannabinoid used to differentiate hemp from marijuana and it is the only cannabinoid which remains restricted at concentrations of higher than .3%.
Legally speaking there are 2 forms of cannabis in the United States after the 2018 Farm Bill: Hemp and Marijuana. When cannabis or cannabis products contain less than .3%, they are considered Hemp and are federally legal. When cannabis or cannabis products contain a concentration of greater than .3% Delta 9 THC, they are considered marijuana and are federally illegal, regulated by the DEA and classified as a schedule one narcotic according to the FDA.
THC is federally legal, provided it is derived from hemp and concentrated at a percentage of less than .3%. This creates a hemp product and is legally classified no different than a Full Spectrum CBD Oil. Because of the limit on concentration you will only find Delta 9 THC in edibles in our industry and in our Store.
What are the effects of Delta 9 THC?
Delta 9 THC is traditional THC so the effects are comparable to any edible you would find in your traditional dispensary. THC is known to help you relax, improve mood, rest and appetite as well as reduce physical discomforts. There are both recreational and health and wellness applications for THC depending on your personal need or desires.
Delta 9 THC can also be responsible for some of the negative side effects associated with cannabis like paranoia and anxiety. These side effects are largely a result of over stimulation in the brain due to over ingestion of THC. THC increases brain activity, which is where most of the negative side effects come from. Due to this, we always suggest starting slow with THC new products, no matter your experience with cannabis.
How much Delta 9 THC Should I take?
A recreational dose of THC begins at 5 MGs so if you are entirely inexperienced we suggest starting there. Tolerance to THC builds over time and with increased consumption. As you begin a consistent regimen of THC or if you already have a considerate tolerance you may want to increase your dose over time. If you are a consistent cannabis user but are new to Best Buds Products, we suggest never using more than 20 MGs of THC on the first use of our products. You always want to test the waters before diving in.
Best Buds edibles are lab made, meaning they are consistent throughout. You can trust that your experience and dosing are consistent throughout your edibles. What does that mean? Don't go crazy! Try somewhere between 5 and 20 Milligrams depending on your personal tolerance, and scale your dose from there based on the effects!
Best Buds Delta 9 THC Products
Alright, so we covered the cannabinoid and answered the questions. Now, where are the edibles amirite?
Best Buds currently carries 4 different Delta 9 THC Edibles: 50 Milligram Delta 9 THC Krispys and Cookies, along with our 100 Milligram Delta 9 THC Chocolates and our new 200 Milligram Delta 9 THC Gummies (**COMING SOON**).
Our Cookies and Krispys are best for the weekends and recreational times, but our gummies and chocolate are great for everyday use. Each piece of Best Buds Chocolates or Best Buds Delta 9 THC Gummies contains 10 Milligrams of THC. This makes dosing easy and consistent to help you figure out what perfect for you!
Head over to Best Buds Hemp Shop to check out our full line of hemp derived cannabinoid products and if you have any questions about using Best Buds products feel free to reach out to us anytime with any questions you may have! Best Buds is your friend in the industry and we are here to help you navigate cannabis!
Thanks for reading along with us and we hope you have an absolutely magnifitastic day!