Posted by Best Buds Premium Cannabis on Jun 7th 2023
CWCB 2023
Last Weekend we had the pleasure of attending CWCB NYC in the "Green" Apple as it is becoming known. This year wasn't nearly as exciting and adventurous as last year, it was all about the business! However, we still wanted to share our experience and the some of the things that we learned this weekend as well as the exciting things that are happening in NYC and New York State! Make sure you stick around until the end for some of the fun stuff!
PS Our in house photographer could not make it, so your going to have to deal with iPhone photos, sorry. Lets roll!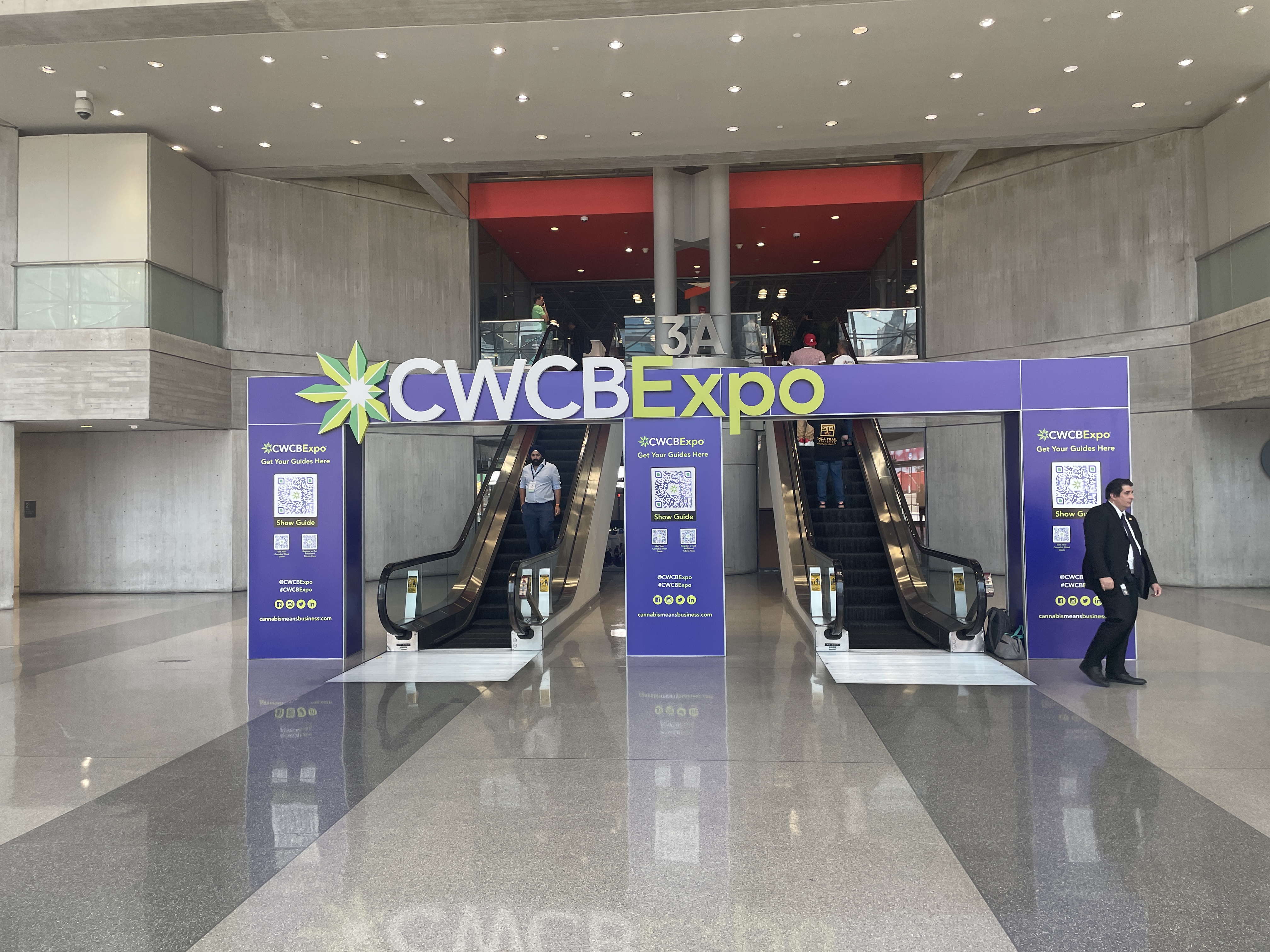 What is CWCB?
CWCB is an annual Cannabis conference held at the Javits Center in Manhattan, New York City. In long form it is called the Cannabis World Congress Business Expo. CWCB is a 3 day event where cannapreneurs, capital investors, educators and consumers congress to share experience, perspectives, knowledge and education and build an overall perception of where the cannabis industry is at, and where it is heading. It is an extremely interesting and eye-opening experience.
The event is full of all sorts of vendors, like, everything imaginable.
CWCB Exhibitors
Pre Roll Machine, CWCB Expo 2023
You will find every type of business at CWCB. There are cultivators, processors, extractors and dispensary owners; printers and custom manufacturers and professional services like security, legal services and accounting firms and even engineers that are pathing the way for cannabis automation. But for us, we came for the buds, as you could have guessed!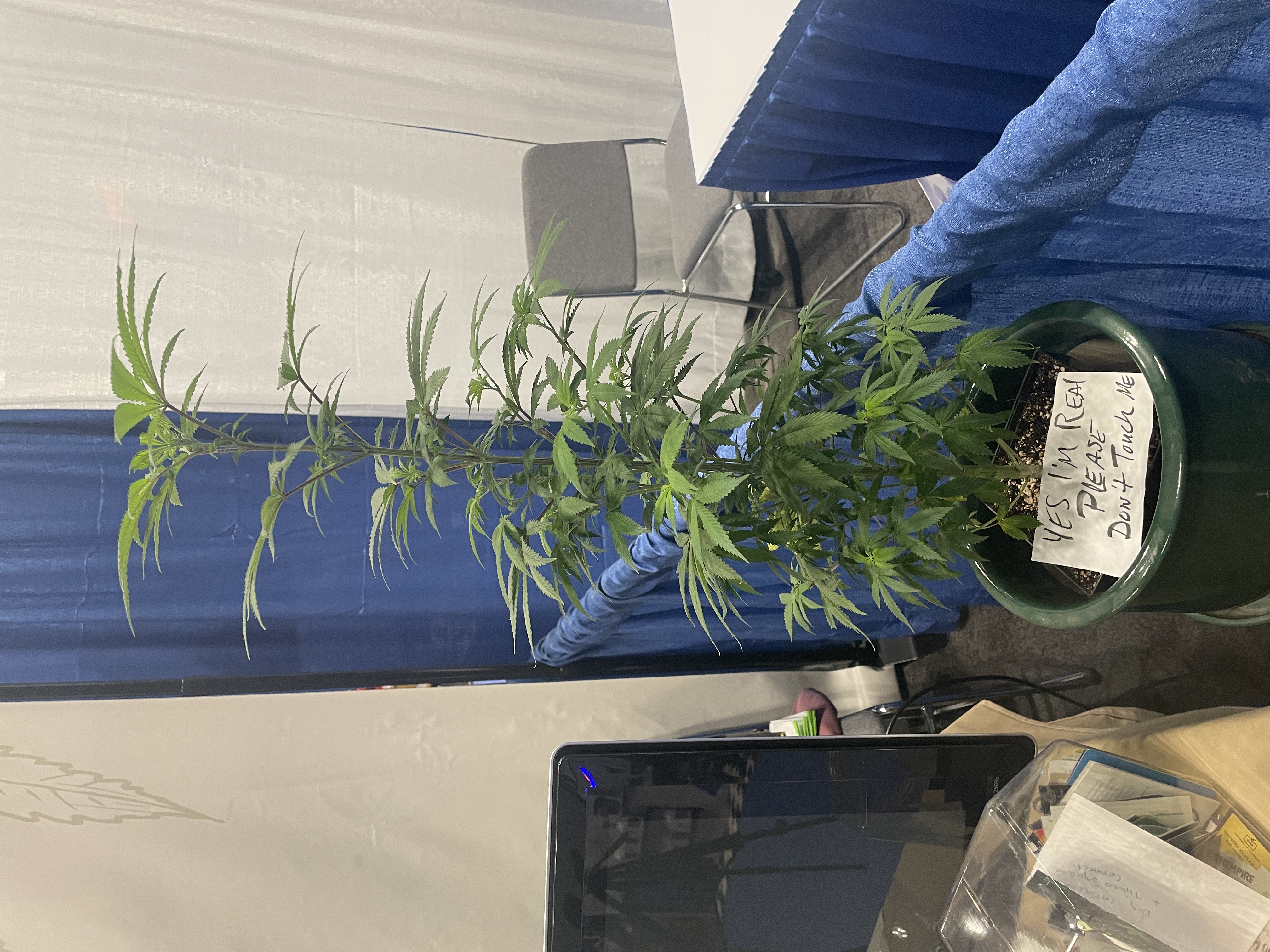 Cannabis Plant, CWCB Expo 2023
This year we had the pleasure of meeting a ton of upcoming NYS cultivators thanks to NYSMALLFARMA, which was awesome! NYS has a developing recreational market which is slowly beginning to blossom as they roll out regulations and guidance for the upcoming dispensaries and slowly but surely open more stores throughout the Boroughs and the State.
However, the growers have been growing for over a year now, almost 2 actually, and are experiencing a bit of "bottlenecking" as NYC Office of Cannabis Management still wrestles with regulations and laws for recreational sales. As these farmers are turning over crops, the dispensaries are not opening fast enough to sell the amount of flower being produced.
Luckily, they are making some swift regulatory changes to allow these farmers to partner with dispensary license holders to host "pop-up" farmers markets, allowing them to showcase and sell their flower and retail directly to consumers across the state!
We are excited to see what is in store for New Yorkers, New York cultivators and New York tourists in the future, though it appears to be bright!
CWCB Seminars
This year we had a great time sitting in on as many seminars as possible! As we have grown over the years these types of seminars have but golden in helping us solve problems, scale and bring new things to the table for our customers and clients. These seminars bring professionals from different markets, backgrounds and professions in order to help cannabusinesses stay in tune with the industry.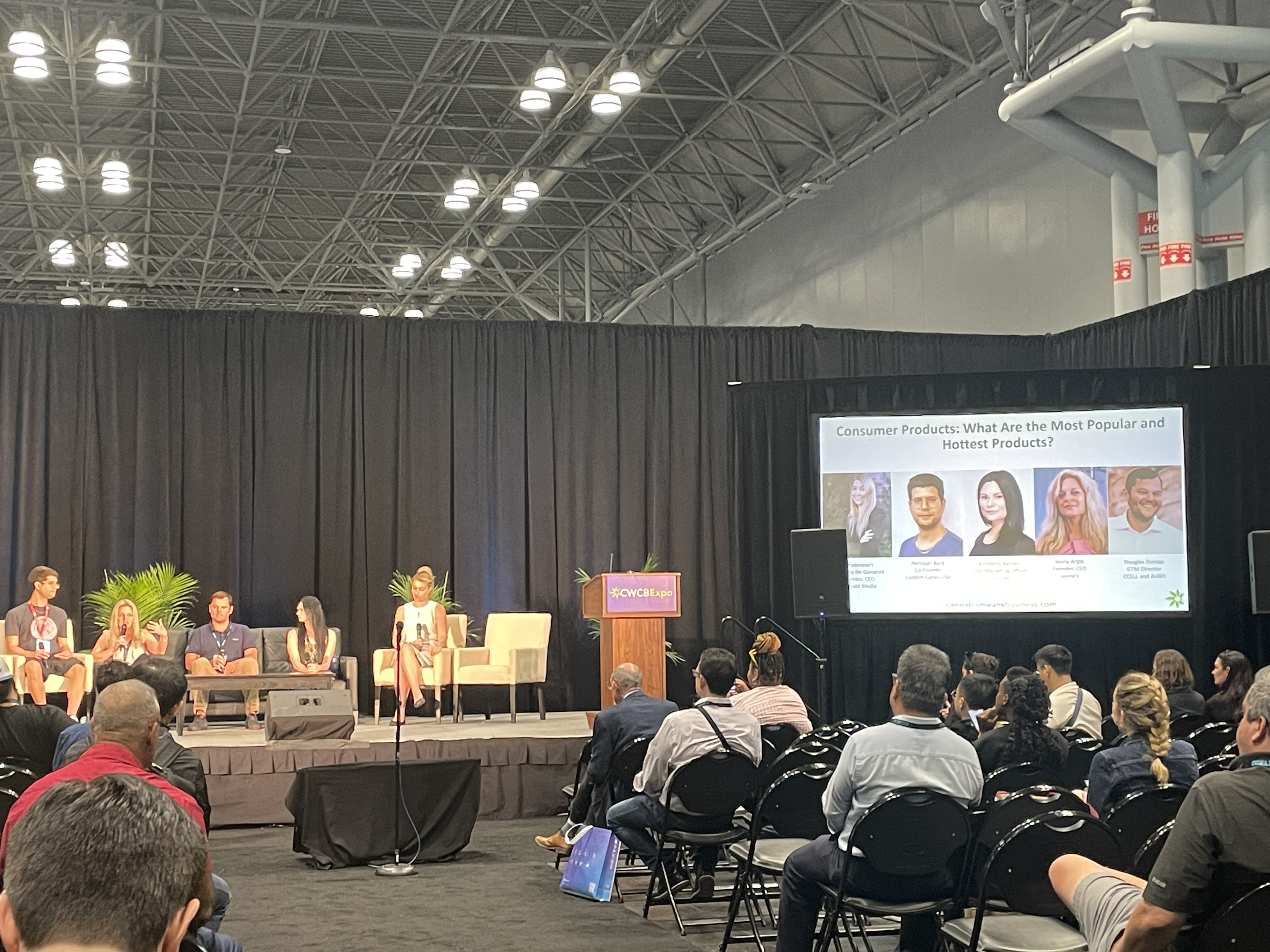 Many seminars include statical analysis of independent markets as well as national markets and even international markets. The scope of business discussions is large, in depth, experiential and certainly interesting.
For Best Buds, it shows us where the market is, where it is heading, and were we should be and what we should be showing to our customers and clients.
Seminar Highlights
We tried to sit in on as many seminars as possible, while still meeting fellow cannapreneurs, future business owners and manufacturers, and just hanging out and smoking with some fellow owner-operators. Some of the highlights of the conference included Product and Packaging Trends and Cannabis Markets: East VS West.
The packaging panel was intriguing as it showed more than just what's available and being used, but why things are being used and why things are working.
Best Buds has a focus on renewability, recyclability and composability. We try to reduce our carbon footprint everywhere that we can, as do a lot of cannabis companies, but the world as a whole is not nearly as focused on renewability which leads to significantly increased costs for cannabis companies choosing the green, renewable route over the companies opting out of the renewable options for cheaper plastics.
In turn, most cannabis consumers are "green" minded, in that they would like to reduce their waste, but also money minded, in that they do not want to pay a premium for products placed in renewable or compostable packaging.
We are always looking to improve and reshape our business, which largely entails modifying our packaging. Take our cannabis flower packages for example. When we started operations in late 2019, we launched our business with this packaging. Here we are 4 years later and a dozen trade shows attended, and we have never swapped out our flower packaging. Why?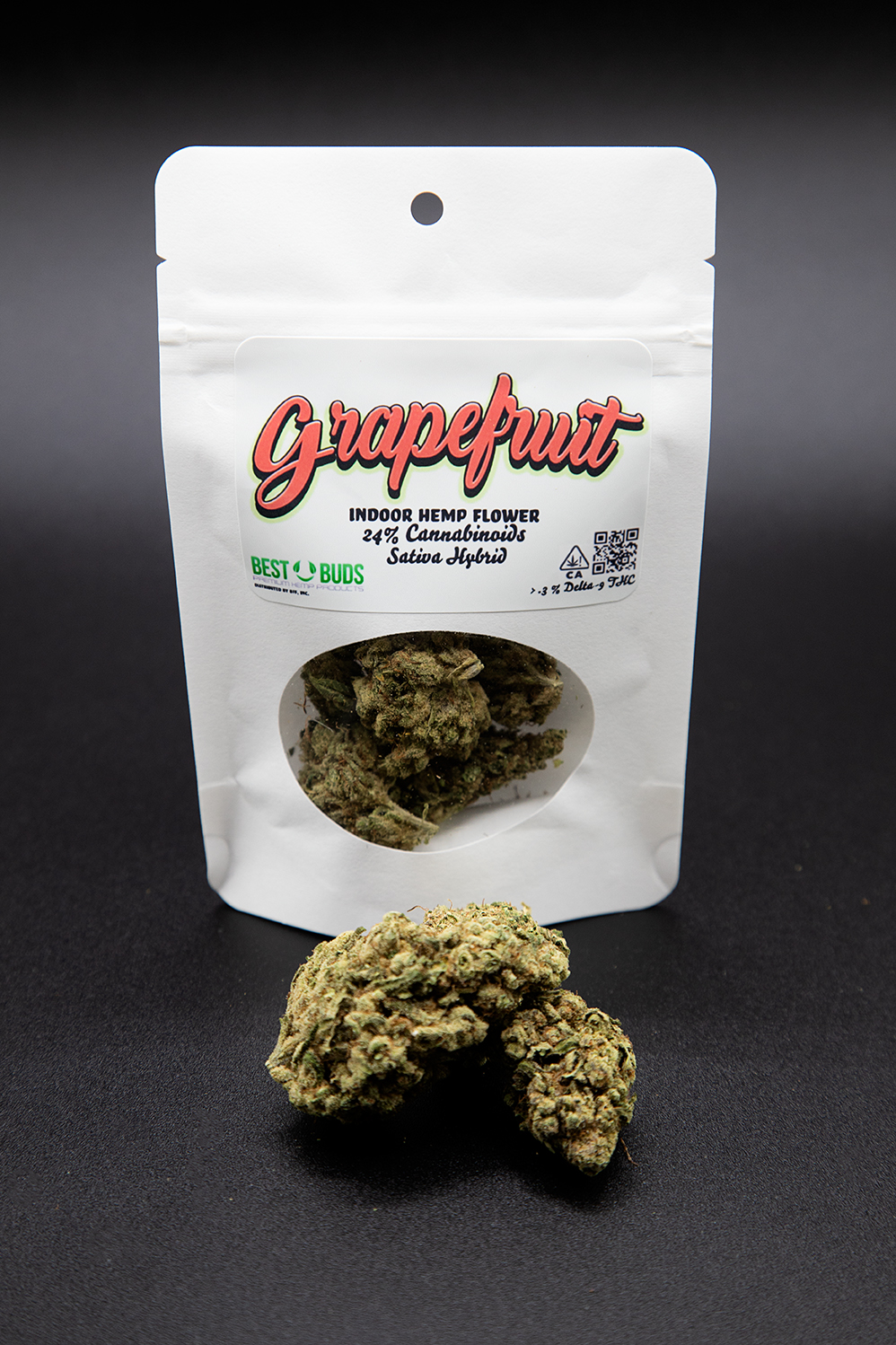 Because they are made with 14 Day compostable materials, they keep your flower fresh until it gets into your hands, and it simply works. Also, while comparably they aren't cheap, the cost is not enough for us to have to transfer those increases to our customers. We pack our buds in a earth friendly, compostable, food safe sealed bag that gets you what you want where you need it. If it isn't broke, don't fix it.
Another very interesting panel was the discussion of marketing cannabis on the East Coast versus the West Coast. The demand and interest for products in California isn't the same as say, South Carolina or Canada. What we're doing on the East Coast, they simply aren't doing on the West Coast. And what works on the West Coast, simply doesn't transfer to the East.
It is quite fascinating to see the statistics and analytics on the different consumption methods and choice of products from 2 sides of the nation.
The State of Cannabis in NYC
Now, we can talk about some of the fun to come in NY.
NYC is its own animal when it comes to the cannabis scene in the City. We have been pretty much anywhere weed is legal, and no where comes close to what you can experience in NYC, even now. While NYC regulators may be slow moving towards rolling out a legal guidelines, the cannabis scene is certainly reacting fast to recreational legalization.
Legacy companies who have been serving NY for a decade in some instances have drawn themselves into the light and are allowing their skills to shine. Anything from infused drinks to full course infused meals can be found in NYC currently.
The current laws in NYS also states that wherever you can smoke a cigarette, you can consume cannabis, provided you are not behind the wheel of a car. Also, companies can not discriminate or hire or fire based on cannabis consumption, leading to much of the stigma around cannabis becoming a complete thing of the past.
To say that the New York State cannabis scene is unique would be an understatement. The New York City cannabis scene is its own thing entirely, and its just getting started. We can't wait to see the skilled cultivators, chefs and entrepreneur's truly shine in their blossomed businesses.
Before we wrap this up we have to give a huge shout out to the CWCB Expo for hosting such an awesome expo. Also, we want to give a shout out to the businesses that hosted us during our stay and are making waves in the industry like ChefForHire and Work n Roll. And to some of awesome people we met or know in the City, check out all these awesome businesses and individuals on Instagram to continue this story! Sorry if we missed you, we might no know what to tag!
@CWCBExpo
@ChefForHire
@Worknroll.nyc
@lemsmeanswell
@hwmk