Posted by Drew Giles, Best Buds Premium Hemp and CBD products! on Jun 2nd 2021
Best Buds CBD Gummies
Best Buds was built around 1 thing, providing the best hemp derived cannabis products available in the United States. We set our standards high and we source our products from East Coast to West Coast, North to South. With that being said not everything available in the hemp industry and CBD is great, or even good. Some of it isn't even what people claim it to be. When we set out to find CBD Gummies and CBD edibles in general it proved to be a difficult task. We eventually landed on 1 edible product and 1 only, our letter shaped 20 MG CBD Isolate Gummies.

How we chose our Gummies

Best Buds 20 MG CBD Isolate Gummies are without a doubt one of the best edible products available throughout the country, we have no question because we sampled so many! We tested dozens of different products before we settled on these bad boys, and we have yet to have a customer complain even the slightest. On our journey to find the best CBD Edibles in the industry we came across SO many varieties. Brownies, cookies, chocolate drops, nerd ropes, gummy bears and fruit snacks. You name it, we have tried it. Many of them were passed up immediately. Some were awesome but lacked in a certain department. We found that many CBD Baked goods had a very herbal taste and the potency didn't weigh well with the nutritional aspect of eating the edible (not everyone wants to eat a brownie for their CBD everyday). We eventually boiled things down to gummies. We knew we wanted gummies, but we kept finding the flavors to be whacky. It proved difficult to find a gummy that was both enjoyable and effective. Either they tasted funky, or had too little of CBD to be effective without a large quantity. Finally, we sampled our current 25 MG CBD Isolate Gummies with a variety of products from our Colorado bases manufacturer.

Our manufacturer sent 10 MG and 25 MG Bears, and 25 MG and 50 MG CBD Letters. The bears were too small hold the potency, you could taste the hemp extract and they left you with a nasty aftertaste. The 50 MG Letters were the same way, very strong cannabis taste in the gummy. Then BOOM! We landed on these 25 MG CBD Isolate Gummies and they were PERFECT! Our lab tests validated the 25 MG per gummy proving that these gummies could be effective without eating 10. They also were enjoyable to eat and left us with no after taste or taste like we were eating bud.

If you are looking for a top shelf, enjoyable and effective CBD Gummy, Best Buds gummies are for you! We want to cover some information about our gummies as well as the benefits and what our customers have said.

Best Buds 20 MG CBD Isolate Gummies
First of all, these gummies are an isolate. What does that mean? What that that means is that they are a highly concentrated form of CBD. Everything has been removed from the hemp extract except for 1 cannabinoid, CBD. There are no minor cannabinoids and these treats contain 0.0% THC. In addition to isolating the CBD from minor cannabinoids the extraction process also removes the terpenes from the hemp, meaning the herbal flavor is removed from these edibles allowing the flavor of the sweet treat itself to come through.
This mean's that what you get is a 20 MG dose of CBD that is enjoyable, effective and consistent. Each bag contains 20 individual treats which contain 20 MG's of CBD each for a total of 500 MG of CBD per bag. Our customers and staff find the benefits of these gummies to be awesome! We cover benefits and uses down below.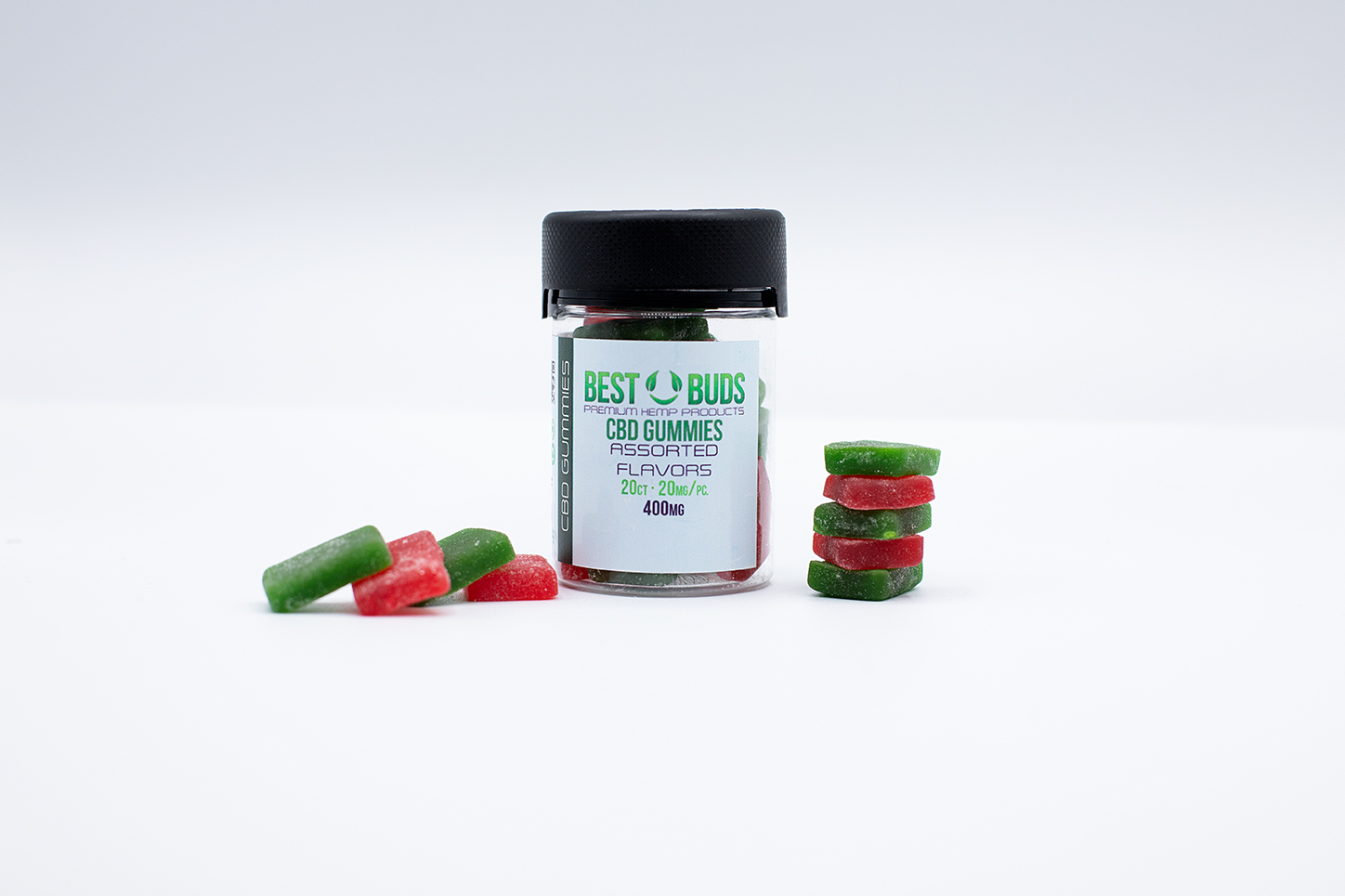 CBD Gummies for R&R
THIS IS THE NUMBER ONE BENEFIT that we hear from our customers, our incredibly happy customers we might add. Who doesn't feel better after a solid full nights sleep? Research has shown that CBD can increase the quality of sleep as well as the duration of rest which means that wake up feeling more rested, energized and able to get to it every day! Better and more rest also leads to increased mood and less stress. Exhaustion only can lead to a variety of issues, so getting better sleep can dramatically increase your livelihood.

Here is some feedback from our customers:
"I use several Best Buds products and it has helped me and my husband a great deal, in particularly with soreness and sleep! I haven't sleep this good in years. Getting more solid sound sleep for us both has truly been life changing! Thanks Drew for keeping us educated and informed of the latest developments in ALL things CBD! Y'all Rock!!"

"I've tried several different kinds of CBD products and these are the best I've come across so far. The gummies and tinctures are the best! Thanks"

We can tell you all day about how good our products are and how they will benefit you, but it seems a bit biased, am I right? We love to hear about how our customers have received relief from our products and how we are improving their day to day lives! If you have issues with sleep our gummies very well may be the trick to improving your sleep and in turn, improving your days!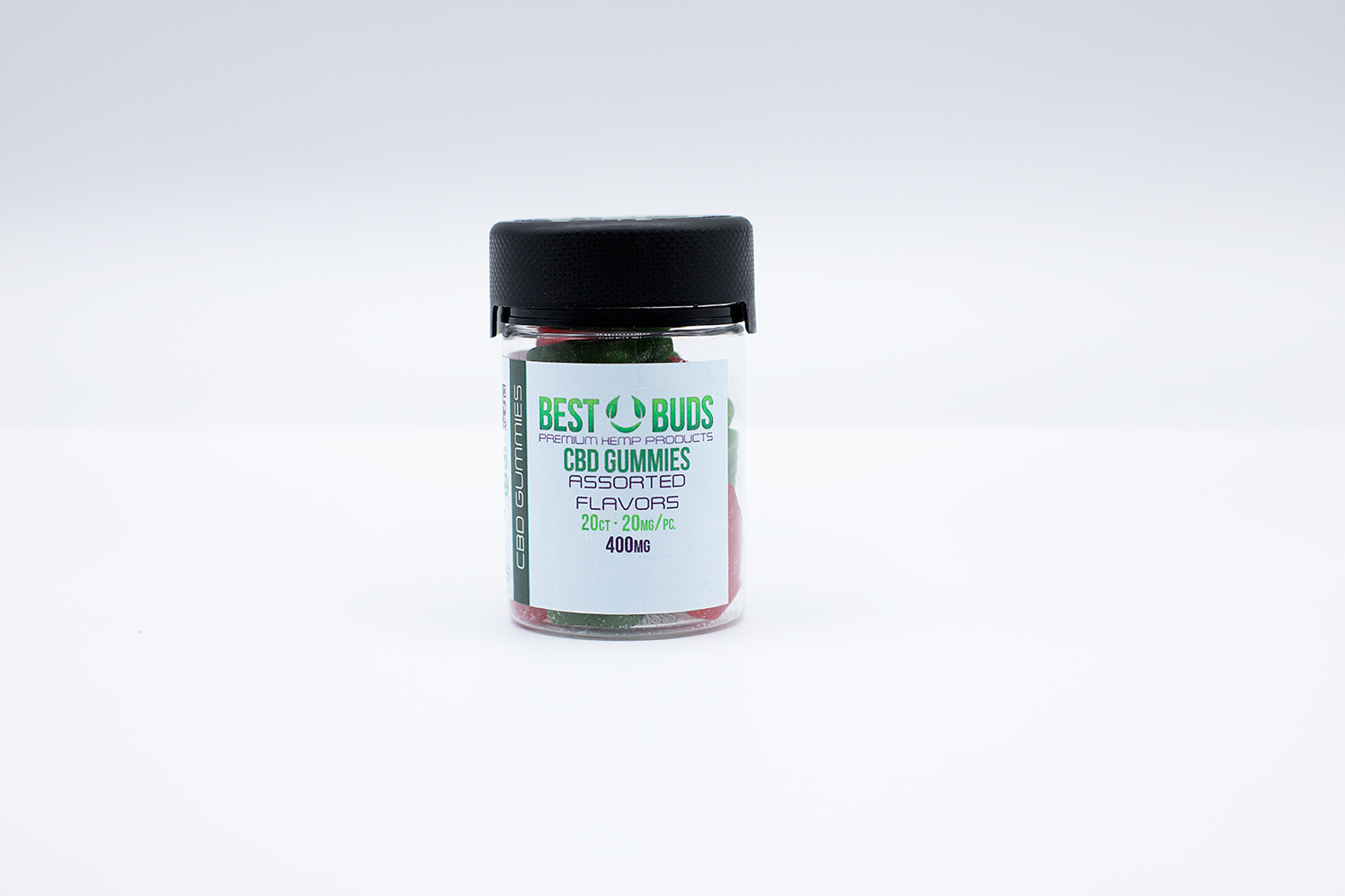 CBD Gummies for Anxiety

Our gummies are an awesome source of stress and anxiety relief. In general, when wanting to use CBD or hemp derived cannabinoids for anxiety or stress we find vaster effect with full spectrum products like our tinctures. That's not always the best fit for everyone. Some people prefer the easier delivery method of gummies, and some simply want to stay entirely away from THC. While these gummies are an isolate, they still pack plenty of ability to combat anxiety. CBD has been shown to decrease anxiety when isolated, so don't steer away from using isolate products for anxiety. Our gummies are great for curbing anxiety as well as stress and "leveling" your mind set.

Anxiety and mental discomfors can be just as crippling as other physical discomforts. If your looking to curb your anxiety with a natural alternative to pharmaceuticals we certainly suggest giving these gummies a shot! In addition to providing you with relief these gummies are great for improving your sleep meaning you can feel better rested with confronting your anxiety. Sleep is a huge part of health and simply "feeling good." Getting better sleep allows you to feel more rested, awake and alert during the day and provides the brain with the energy to properly function meaning you don't already feel like your dragging along when you start your day.

We suggest starting with 1-2 Gummies or 20 MG to 40 MG depending on your size and weight and allowing at least a week of steady dosing before deciding if our gummies are beneficial for your anxiety. People with higher levels of anxiety may find that increasing the dose increases the benefit. People with a higher body weight like body builders may also find that a higher dose it appropriate for their personal needs.

CBD Gummies for Stress

These gummies are awesome for reducing stress as well. CBD has proven itself as a tried and true remedy of stress time and time again. The important factor that comes into play is ensuring that you are receiving the correct amount of CBD that works for you. Our Certificate of Analysis page has a full cannabinoid breakdown of all of Best Buds CBD products. It is SUPER important to us to ensure that our products are beneficial and consistent. Our gummies contain 20 MG's of CBD per gummy making it easy to find out what works for you. We always suggest starting with 1-2 gummies (20-40 MG's) to gauge what works for you. 1 gummy should curve stress but you could find that you need more to rid yourself of the discomfort. CBD products effect everyone differently and it is essential for you to determine what works best for you! You may find that 1 half of 1 gummy is all that you need, or that you need 3 gummies to be at the top of your game. Both are fine! Determining what works for you is a very essential part of taking your health into your hands!

Our gummies can be a wonderful source of stress relief for those looking to take stress management into their own hands. Pick up a bag today in our hemp shop and get started on a less stressful day tomorrow!


CBD Gummies for Pain

This is a big one for a lot of people. Every single week we have people that are wanting to turn away from pain pills and are looking for something to take care of their issue naturally. This is HUGE and really important to us. Pain management, especially inflammation-based pain, is a primary use of CBD. CBD products can most likely benefit you if you deal with managing pain to live a comfortable life. Our products, and all CBD products, work with you Endocannabinoid System (ECS) to confront your pain using your own body. The ECS is essentially a built-in moderator of your bodies natural systems. When you are stressed, it works to reduce stress related chemicals. Likewise, when you are in pain it works to reduce the issues causing the pain and the inflammation.

Best Buds CBD Isolate Gummies can be beneficial for simple things like shoulder tension and post-exercise soreness and can even provide relief all the way to severe life altering pain like hips and joins. There is a BUNCH of research around the subject and more coming all the time. CBD is becoming more popular across the USA but also in professional sports like the MLB and UFC! Pharmaceuticals and even over the counter medications can really mess with your body, bones and internal systems. CBD works naturally with your body to combat soreness and pain. There are no major side effects to using CBD for pain management and studies have shown no effects indicative of any abuse or dependence on CBD.

We don't want to bog you down with reviews, but here is a VERY relevant review from our customer who sought us out for her issues and was ECSTATIC with the results:

"I've suffered from neck pain for years due to tight muscles and deep knots. I've tried prescription meds as well as regular massages with no relief. I thought I'd give CBD oil a try as I've heard that it's helpful for pain relief. I've been using my CBD from Best Buds for a week and I'm already having decreased neck pain! I'm no longer stiff upon waking in the morning and my mindset is so calm! And the customer service is 100%! Ive had personal follow ups to make sure the products was everything as expected and it is! Thank you so much Best Buds for this amazing product! I'll be using for as long as I foresee in the future!"

We absolutely LOVE that we can provide people with a natural way to confront their issues and allow them to take care of their pains and discomforts using a plant! If you are concerned with your current regimen, always consult your doctor or physician before starting a new regimen. If you are concerned with the effects of cannabidiol (CBD) on your current medications, we suggest visiting Drugs Interaction Checker here or visiting WebMd's Drug Interaction Checker. When comparing your current pharmaceuticals with Best Buds CBD products, be sure to check the interactions of your medication(s) with cannabidiol not CBD as CBD will not be found in their database.

How to buy Best Buds CBD Gummies
Making a purchase from Best Buds is easy. Simply visit our online Hemp Shop and find the product you are looking for, add it to your cart. Provide us with your shipping or local drop off information and check out through our secure one-page checkout. We ship same day on our orders.


If you feel like you are unsure if our products will benefit you have no fear, we are here! You can contact us anytime with any questions or concerns you may have and our educated staff can guide you to the right product for your needs.