Posted by Best Buds Premium Hemp Products on Oct 3rd 2021
Hey bud! Are you excited for spooky season?! We know we are. Halloween sort of kicks off the fall and the holiday season, so we get pretty into it! Every year during October we run our Croptober sale! This year were going a little further and giving a little more! Throughout the entire month of October you can expect to see new deals, discounts and ways to earn more for your future purchases! We will update everyone weekly on what's new and where to find the best deals, but its best if you are subscribed to our marketing emails to make sure you stay in the loop!

In this article we are going to cover why we call it Croptober, what deals you can expect this month and why you should be sure to have an account with us for this month! Lets get into it!
What is Croptober?!
October is the end of one growing season and the start of a new one. You will commonly hear about Harvest Festivals or Fall Festivals that celebrate the conclusion of the warm, sunny months in lieu of cooler afternoons and shorter days. In cannabis this is especially influential to us because, well, cannabis doesn't like the cold! Cannabis thrives in hot, humid weather and will quickly wilt and die in cold weather. Before the fall really onsets and the freezing come's through the country everything is cropped, dried and cured and ready to be enjoyed!
Croptober kicks off a new season of new crops, new strains and new plants for us to bring in which in turn means new flowers and products for you! In South Carolina we can cultivate and harvest multiple times a year and we also utilize indoor growing facilities to improve quality as well as mitigate potential issues found with outdoor and greenhouse grows, however, other regions of the country are not so lucky! Some of our favorite flower comes from Oregon where their growing season is much more limited.
Croptober is all about celebrating the seeds you sowed and reaping the reward of months of hard work and dedication. Here at Best Buds we like to celebrate Croptober with the most important people in our work, you!
Croptober Sales
All throughout October you can expect weekly deals and discounts. Every week we will be discounting certain products and we will also roll out special one days sales and subscriber only discount codes. You definitely want to make an account on our website if you have not already! Be sure to stay up to date with our emails and our social media pages to ensure you don't miss out on these 1 day sales and discounts!

Croptober Week one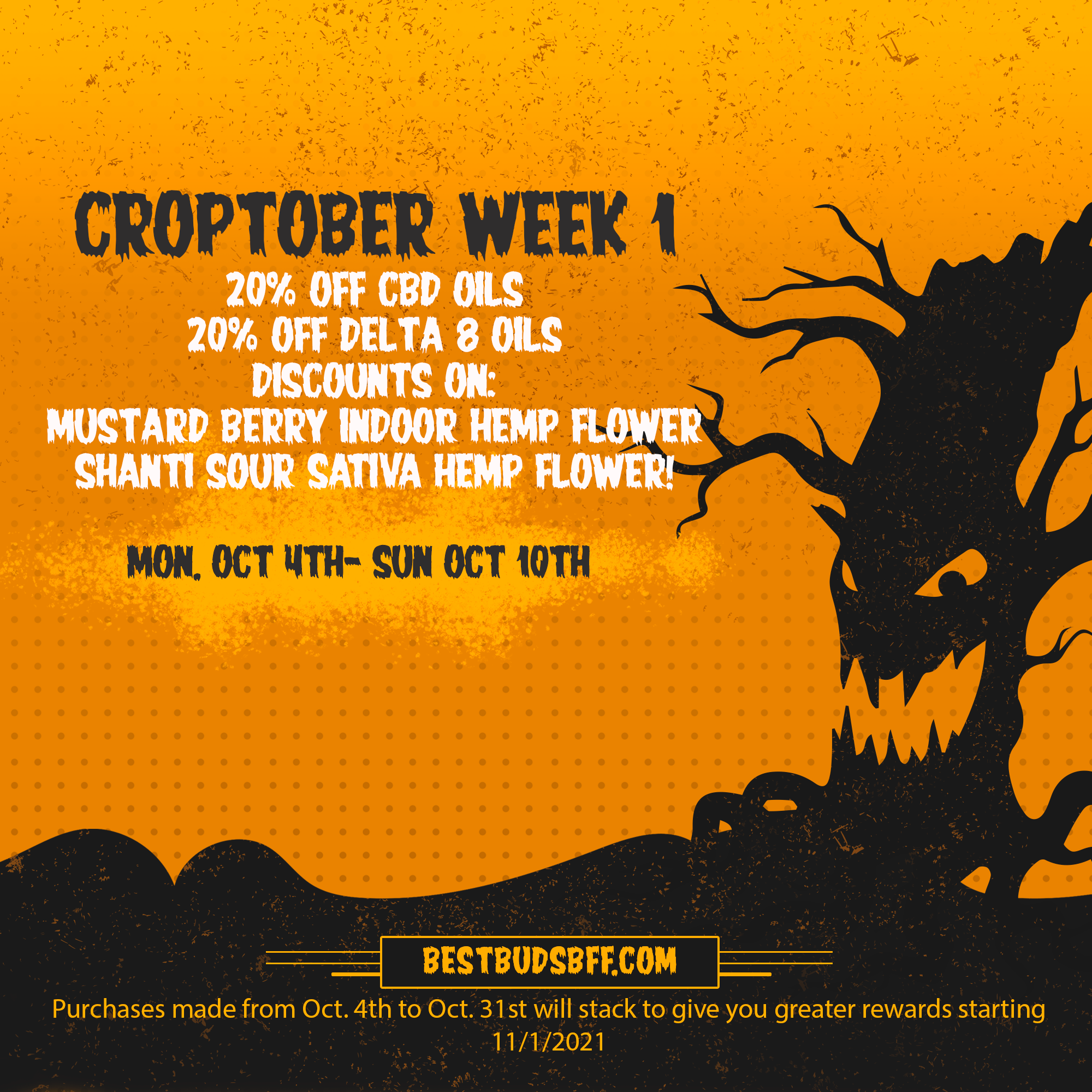 Our sale will start Monday, October 4th. Through out the week enjoy 20% off ALL of Best Buds Oils, both our Full Spectrum CBD Oils as well as our NEW Delta 8 Oils. Also, receive up to 30% off Mustard Berry indoor cultivated flower and Shanti Sour Outdoor flower! These two strains are some of our favorites. Mustard Berry is a sweet, funky flower that is Indica Dominant, and Shanti Sour is a Sweet, tropical, and sour Sativa that is great for Early and Mid Day use!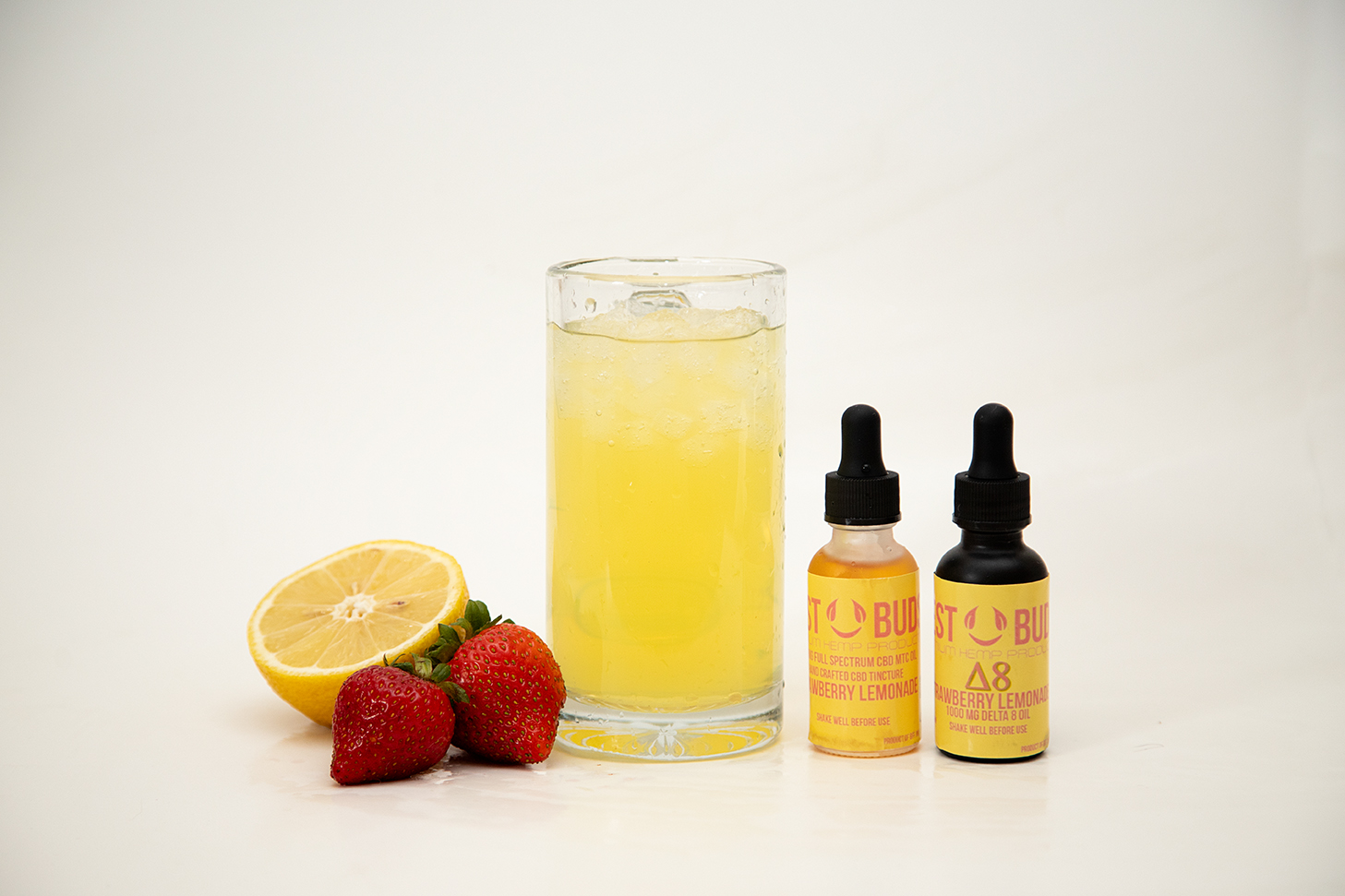 Check back to this article every week to be sure you see what's on sale this week!

Croptober Week 2

During the second week of celebrations we have a bunch of sweet deals! Week two includes 25% off CBD Topicals, 20% off Best Buds CBD Flower Sampler, $20 CBD Gummies and $7 Hemp Flower Pre-Rolls! This discounts are available from Oct 11th to Oct 17th!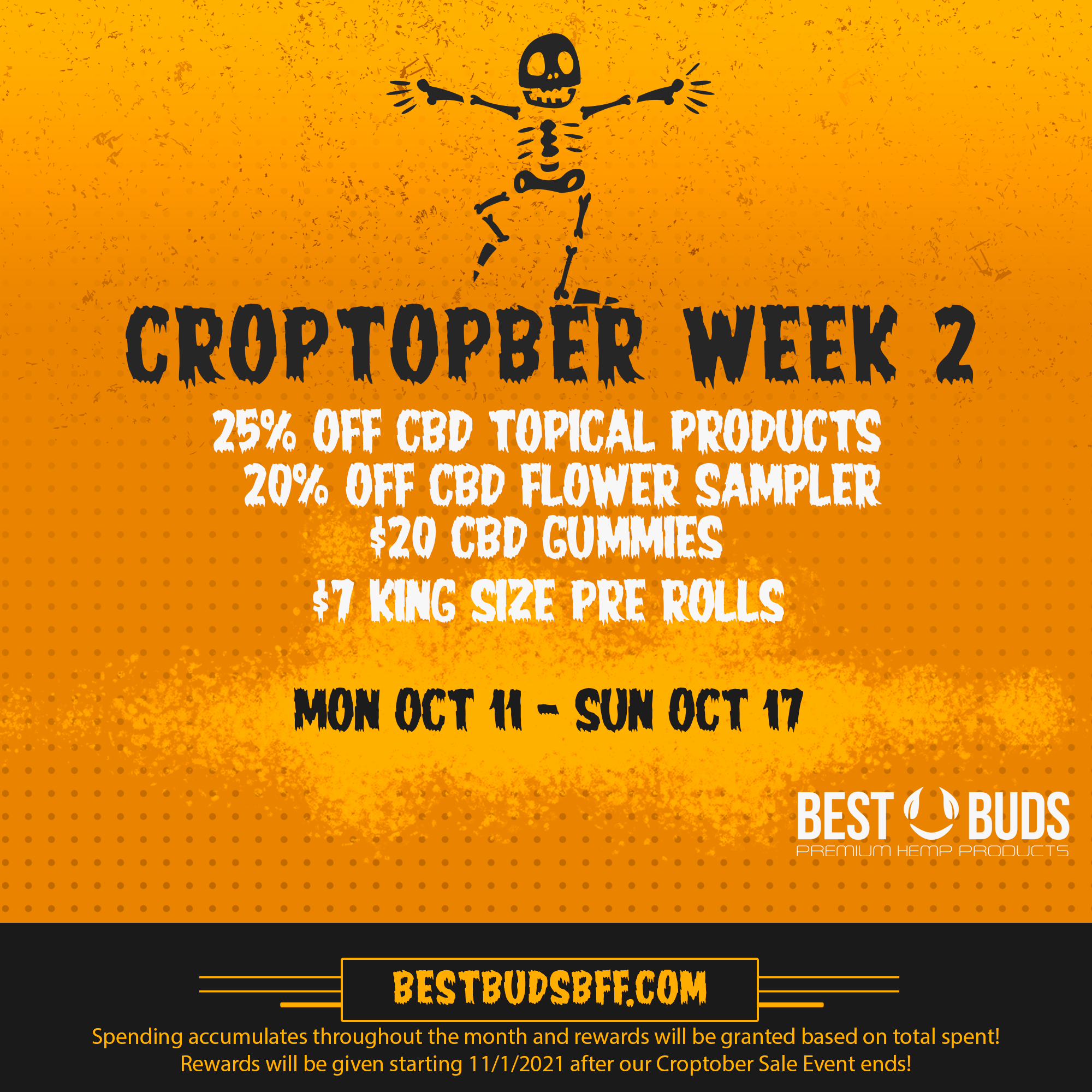 If you love flower be sure to check out our savings on Best Buds CBD Flower Sampler. This collection of flower is our favorites from 2021 and when they are gone, we will not be restocking! Check these out while you can!

Croptober Week 3

Week 3 of Croptober is all about the buds! Pick up all of our Top Shelf Flowers for only $80 an ounce! Choose from all of this seasons favorite before they are gone!

Also, enjoy 20% off Vape Carts and Delta 8 Edibles! These are a sure fire way to set the mood and elevate you days!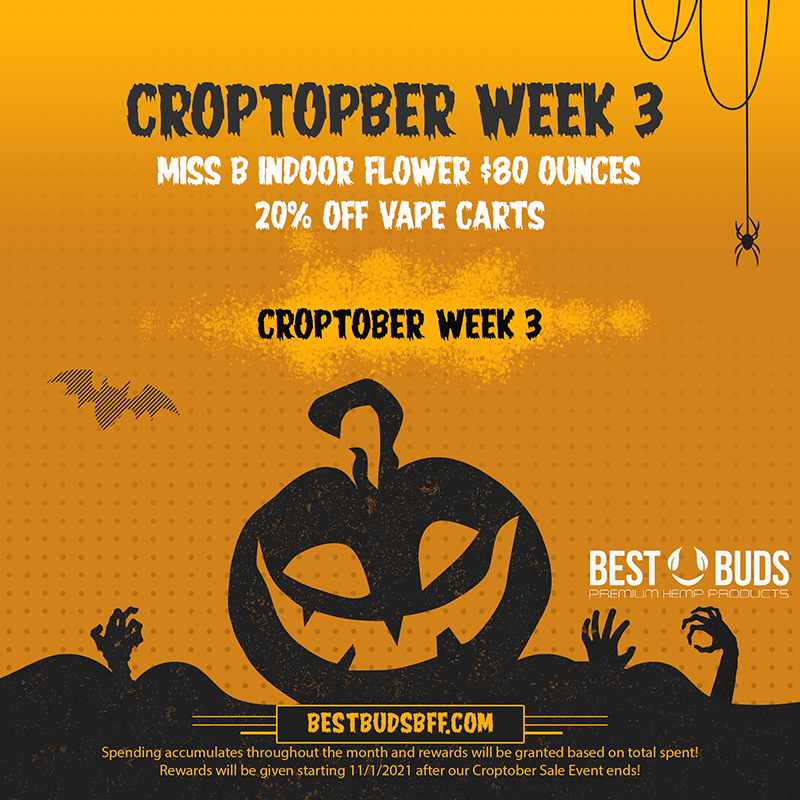 Croptober Rewards!

These rewards are for account holders only! Best Buds has an entire rewards program (if you didn't know) and we are giving out rewards all through Croptober! All month long your purchases will stack up and provide you with things like FREE money for future purchases, discount codes and special gifts! If you do not have an account with us yet, you will certainly want to be sure to sign up before your next purchase!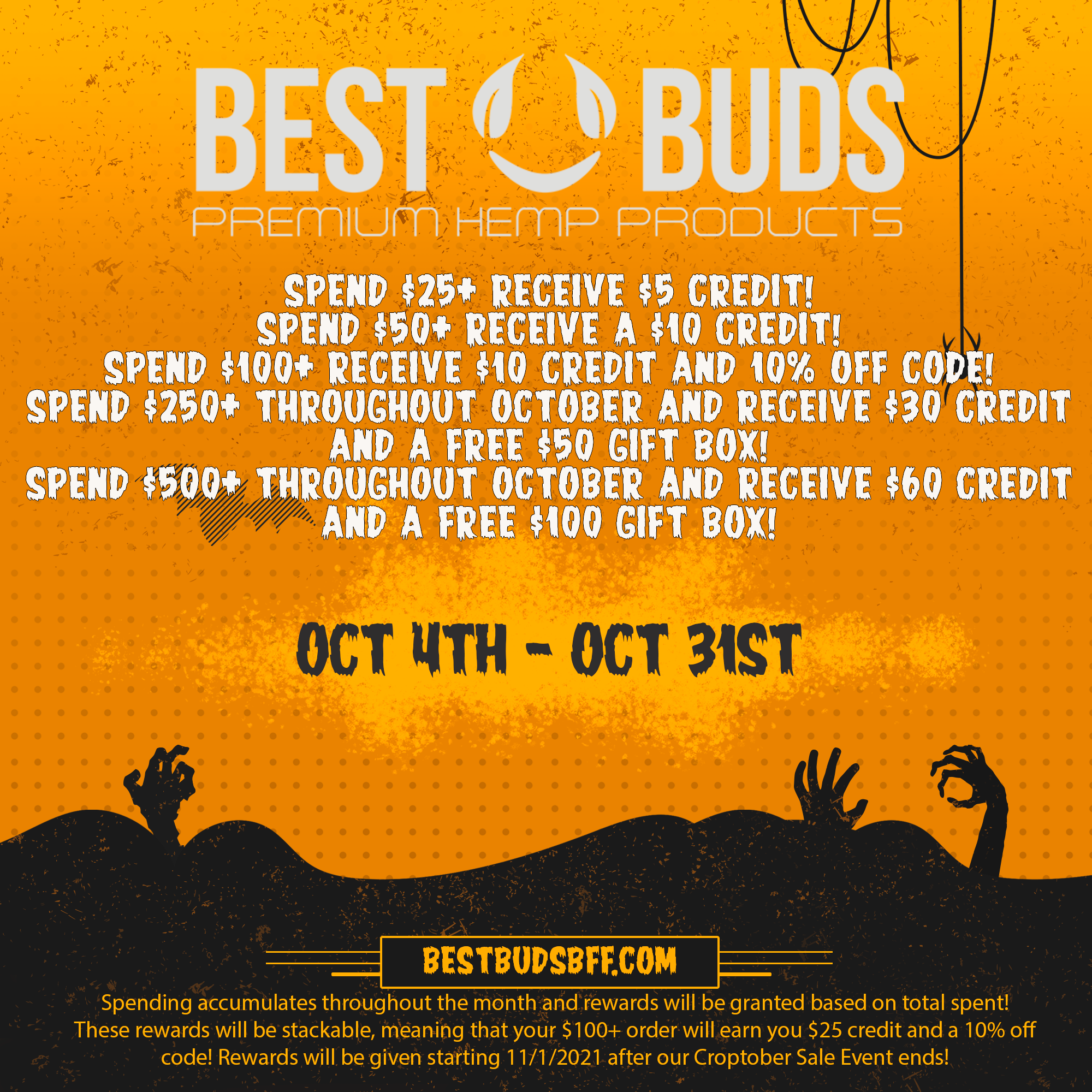 Best Buds Croptober Rewards will go as follows:

Spend $25+ receive $5 Credit!
Spend $50+ receive a $10 credit!
Spend $100+ receive $10 credit and 10% off code!
Spend $250+ throughout October and receive $30 credit and a FREE $50 gift box!
Spend $500+ throughout October and receive $60 credit and a FREE $100 gift box!

Spending accumulates throughout the month and rewards will be granted based on total spent!
These rewards will be stackable, meaning that your $100+ order will earn you $25 credit and a 10% off code! Rewards will be given starting 11/1/2021 after our Croptober Sale Event ends!